Herman Cain: How the recent Web buzz fits this year's GOP pattern.
New research shows that the meteoric rise by Herman Cain in the polls has been mirrored by a surge in Internet search traffic, even bypassing that for Sarah Palin. But will it last?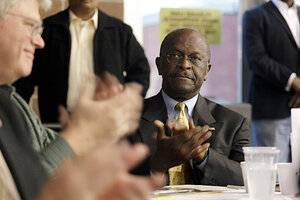 Brian C. Frank/Reuters
Question: What do you get when you mix 81 percent disapproval (in a recent Gallup poll) of the direction the country is headed with the current crop of GOP hopefuls?
Answer: Candidates that come out of nowhere to lead the pack, most of whom fizzle in record time.
That's the consensus of analysts looking at research released Monday by Chitika Insights, the research arm of the Westborough, Mass.-based online ad network, Chitika.
By monitoring the online search traffic from search engines Google, Bing, Yahoo, and others, Chitika's researchers have chronicled the dramatic web-based surge of interest in Herman Cain alongside the equally dramatic falloff of interest in Texas Gov. Rick Perry.
"Six weeks ago, the former Godfather Pizza CEO was a relative unknown and garnered only about 2 percent of the search traffic," Chitika said in its release. "However, since Cain surprised the political world with his win of the Florida straw poll, his momentum has been unabated, and is now tied with Mitt Romney for the lead on realclearpolitics.com."
---