Rick Perry's flat tax plan: Would you have to do your taxes twice?
People could opt for flat tax rate of 20 percent or stick with the current tax system. The Rick Perry plan offers choice, but people might need to do two calculations to tell which is best, some say.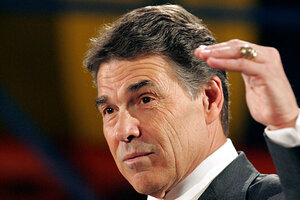 Mary Ann Chastain/Reuters
Republican presidential candidate Rick Perry has entered the flat tax sweepstakes.
Mr. Perry is hoping his 20-20 flat tax rate will resonate as widely as Herman Cain's "9-9-9" tax plan, which features a 9 percent sales tax, 9 percent personal income tax, and 9 percent corporate income tax.
"This is a change election, and I offer a plan that changes the way Washington does business," the Texas governor said Tuesday at an event in Gray Court, S.C.
But on his way to simplifying the tax code, Perry says, he wants to let Americans choose their tax rate: A taxpayer can opt for the 20 percent flat tax – with certain deductions – or stick with whatever rate he or she is currently paying. To quote a well-known ad jingle, "have it your way."
For people who opt for the flat tax, says Perry, filing will be as simple as mailing in a postcard, saving a collective $483 billion in costs associated with complying with the federal tax code.
On the postcard is room for deductions for home-mortgage interest, charitable giving, and state and local taxes, for those making less than $500,000 a year. At the same time, the standard individual exemption would jump from $3,600 to $12,500.
That means the 20 percent tax rate actually might be quite a bit lower, especially for people who borrowed a lot of money to buy a house, paid high property taxes, and gave a lot of money to charity.
---