Herman Cain: To sexual harassment allegations, add financial ones
Possible campaign-finance impropriety simmers alongside a report of sexual harassment allegations dating from the 1990s. 'I have never sexually harassed anyone,' Herman Cain insisted. But he also gave new information about a settlement with one of the women.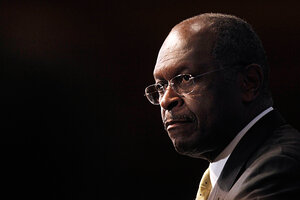 Pablo Martinez Monsivais/AP
Herman Cain should know that his presidential campaign is in trouble when one brewing scandal is stealing attention from another one.
Most headlines are focused on the sexual harassment allegations that came to light Sunday in a report on Politico.com. Mr. Cain, leading for now in national and many statewide polls for the Republican presidential nomination, was alleged to have sexually harassed two former employees when he ran the National Restaurant Association in the 1990s. The group paid settlements to two women, Politico reported, citing multiple sources. Politico did not reveal the names of the women, in keeping with the terms off their settlements.
In public appearances Monday, Cain said he was "falsely accused," and called the story a "witch hunt." He also said he was unaware of any settlement, a point he reversed later in the day.
But perhaps just as damaging to Cain is a report in the Milwaukee Journal Sentinel, also published Sunday, which asserts that two of his top campaign aides ran a private nonprofit group that may have improperly helped get Cain's campaign started.
One of the aides at the heart of this inquiry is Mark Block, a Wisconsinite now famous for a Cain campaign Web ad in which he smokes a cigarette. Mr. Block and the campaign's deputy chief of staff, Linda Hansen, founded the Wisconsin-based group Prosperity USA, now at the center of questions over whether it improperly paid for some early Cain campaign expenses.
---