Why Romney's Iowa robo-calls are targeting Rick Perry, not Herman Cain
Romney campaign robo-calls Thursday featured a critic of Rick Perry's stance on immigration. It was a sign Romney is taking Iowa more seriously, and that he views Perry as his main challenger.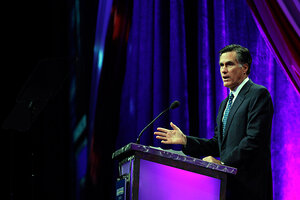 Jason Reed/Reuters
Is Mitt Romney ramping up in Iowa in a possible play to win that state's first-in-the-nation caucuses?
There are growing signs that the former Massachusetts governor – a leading GOP presidential contender – is doing just that.
Mr. Romney funded robo-calls Thursday to Iowa voters featuring an Arizona sheriff accusing Texas Gov. Rick Perry of being "part of the illegal immigration problem," the Associated Press reported Friday.
In a clarification, a Romney official told Politico that the sheriff, Paul Babeu of southwestern Arizona, held a live conference call with Iowa voters, and that voters who did not pick up the phone received a voicemail.
"A lot of the candidates agree we need a border fence. And almost all of them agree in-state tuition for illegal immigrants is wrong," Sheriff Babeu reportedly said in the voicemail. "However, Rick Perry disagrees. Rick Perry not only opposes a border fence. But he signed the bill to make Texas the first state in the nation to grant in-state tuition discounts to illegal immigrants."
Romney has been pounding on Governor Perry for weeks on the immigration issue, one of the biggest policy differences between the two candidates. Romney supports the building of a border fence and opposes granting in-state tuition to college-age illegal immigrants.
Perry's poll numbers remain mired in single digits, both nationally and in Iowa, while businessman Herman Cain is still tied for first with Romney among GOP voters. But the Romney campaign still views Perry as likely to be Romney's most serious competitor for the Republican nomination, especially in light of Mr. Cain's struggles over claims of sexual harassment from when he ran the National Restaurant Association.
---