Ron Paul wins yet another straw poll. So why are the media ignoring him?
Ron Paul won a straw poll in Illinois Saturday, the latest in a string of such wins for the GOP presidential hopeful. Supporters say the mainstream media are ignoring him, but such polls are not scientific and they can favor an enthusiastic following like Paul's.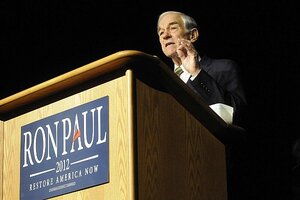 Dave Schwarz/The St. Cloud Times/AP
Ron Paul won another Republican straw poll this weekend, in Illinois this time.
It's starting to become routine for Mr. Paul, points out The State Column, an online source of state political news:
"Paul has consistently demonstrated his ability to rally his supporters to straw polls throughout the nation. Paul took second place in the Ames Straw Poll in August, finishing just 1 percentage point behind Minnesota Congresswoman Michele Bachmann. Paul won a Values Voter Summit straw poll in October and a California Republican Party straw poll in September. On Saturday, October 22, Paul garnered 53 percent of the votes to win an Ohio GOP poll. Last weekend, Paul won an Iowa straw poll at the National Federation of Republican Assemblies in Des Moines, Iowa with 82 percent of the votes."
In Illinois Saturday, Paul won 52 percent of the vote – more than neck-and-neck front-runners Mitt Romney and Herman Cain.
How does Paul do it – winning state after state in these kinds of contests – while generally being relegated to second-tier or "also ran" status by most pundits and pollsters?
Pundits have a hard time categorizing Paul, the Texas congressman who's as much (maybe more) libertarian as he is Republican.
As was pointed out in this space last month, try to imagine a Republican presidential candidate these days who would not support a constitutional ban on abortion, who would cut defense spending by nearly a billion dollars, or who would end all US aid to Israel. Hard, isn't it?
Paul has said he will not run for reelection to his congressional seat next year, raising questions about the possibility of running for president as an independent or third-party candidate.
On "Fox News Sunday," he ruled that out. But confirming his status as something of a GOP outlier, he also said he wouldn't necessarily support the Republican presidential candidate once the primaries and caucuses are over.
"If they believe in expanding the wars, if they don't believe in looking at the Federal Reserve, if they don't believe in real cuts, if they don't believe in deregulation and a better tax system, it would defy everything I believe in," he told Chris Wallace. "And so therefore I would be reluctant to jump on board and tell all of the supporters that have given me trust and money … 'All we have done is for naught and let's support anybody at all … even if they disagree with everything we do.' "
---