Herman Cain accusers and Anita Hill: how do they compare?
Twenty years ago, it was Anita Hill's word against Supreme Court nominee Clarence Thomas. With Herman Cain, several women have charged him with sexual harassment, and public attitudes have changed.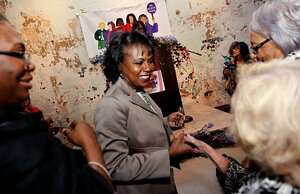 Tracy Glantz/The State/AP
Herman Cain's problems with alleged sexual harassment against women recall the episode 20 years ago when Anita Hill accused Clarence Thomas, nominated to the United States Supreme Court, of the same offense. Ms. Hill was a young lawyer who had worked for Mr. Thomas at the Equal Employment Opportunity Commission.
Mr. Cain's defenders (and the candidate himself) have raised the comparison with the phrase "high-tech lynching," the same thing Mr. Thomas accused his critics of during his Senate confirmation hearings. And the other day at a campaign stop in Kalamazoo, Mich., Cain joked with a supporter that perhaps Ms. Hill would endorse him – something he later felt compelled to say was "in no way intended to be an insult."
A day earlier, Cain had to apologize for referring to former House Speaker Rep. Nancy Pelosi as "Princess Nancy," a phrase many took to be borderline sexism.
ELECTION 101: 11 things you should know about Herman Cain
The differences in the Cain and Thomas cases are important.
In 1991, it was basically his word against hers, and Thomas was confirmed as associate justice of the Supreme Court in a rancorous and raw public episode that saw Ms. Hill vilified and slandered as "a little bit nutty and a little bit slutty" by then-conservative firebrand David Brock (who has since admitted to "character assassination" in writing about Hill).
While Rush Limbaugh and other right-wing commentators have personally attacked the women in Cain's case (including comments on their appearance), it involves multiple accusers, several of whom filed formal complaints resulting in large financial payments.
"It is because of Anita Hill's legacy that presidential candidate Herman Cain is having a much tougher time minimizing the charges of sexual harassment raised against him than he or his campaign advisers ever imagined," blogs Anne Doyle at Forbes.com. Ms. Doyle is a consultant, speaker, and author of "Powering Up! How America's Women Achievers Become Leaders."
A lot has changed in two decades, Doyle writes, but not enough.
---