Republican debate highlights foreign policy differences
Saturday night's GOP presidential debate focused on national security and foreign policy. There were some important differences among the candidates, but all promised to be tougher than President Obama.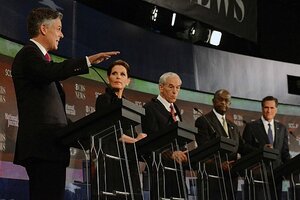 Richard Shiro/AP
Saturday night's Republican debate saw no major stumbles or gaffes, nothing in what CBS News and the National Journal ostentatiously called "The Commander-in-Chief Debate" that any of the contenders is going to have to spend the rest of the week explaining.
In fact, of all the (it only seems like) hundreds of debates so far, this one seemed the most substantial, focusing on national security and foreign affairs – life-and-death issues that President Obama polls relatively well in.
While the range of differences stretched from tough to tougher – except for Ron Paul's isolationism and Jon Huntsman's more experienced, more nuanced outlook – there were points at which differences were highlighted.
Still, nothing happened to alter the basic candidate ranking as post-debate polls are likely to show – Mitt Romney and Herman Cain neck-and-neck at the top and Newt Gingrich enjoying a boomlet that may or may not last.
"The debate illustrated again that the divide in the GOP presidential field on foreign policy is between those who know what they are talking about and those who don't," observed Jonathan Tobin, senior online editor of the neoconservative Commentary magazine.
"A clear grasp of war and peace issues won't transform Rick Santorum into a first tier candidate from an also-ran," Tobin blogged following the debate. "But his lack of command of the issues does make it difficult, if not impossible, for Herman Cain to put forward a plausible argument for himself as a potential president…. While it must be admitted that he's come a long way from the comical ignorance he displayed on this topic when he began his campaign, he still came across as the weakest of all the contenders."
---