Why New Hampshire hasn't joined the anti-Romney bandwagon
Republican presidential candidate Mitt Romney struggles to get more than 20 percent support in most polls. But he's long held a healthy lead in New Hampshire. The two are well matched.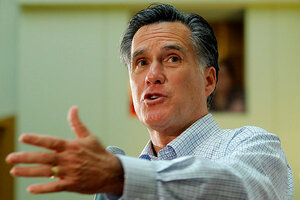 Brian Snyder/Reuters
In national polls, Mitt Romney doesn't have a clear hold on front-runner status. In New Hampshire, though, he's generally had a double-digit lead over a revolving door of second place candidates.
One reason: He's not taking the Granite State for granted.
Mr. Romney, the former Massachusetts governor, hasn't rested on his laurels since finishing second here to Sen. John McCain of Arizona in the 2008 primary. He's crisscrossed the state holding town hall meetings, and he's campaigned not only for himself, but also on behalf of local candidates, building a solid network of Republican support.
For New Hampshire primary voters, such known brands are appealing, political experts say.
Romney, who attended a forum sponsored by the Greater Manchester Chamber of Commerce Friday, is also "a good fit ideologically for the state's Republican voters," says Dante Scala, a political science professor at the University of New Hampshire in Durham.
---