Newt Gingrich pushes back against critics
Faced with growing criticism about his many years as a Washington insider, Newt Gingrich has launched a new website "Answering the Attacks." But some across the political spectrum continue to raise questions about his professional and personal record.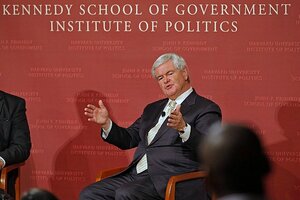 Adam Hunger/Reuters
Newt Gingrich says he welcomes the scrutiny that comes with being a well-paid Washington insider for more than 30 years. Well, at least he's resigned to it. As one who brought down a former House Speaker (Jim Wright) and went after a sitting president (Bill Clinton), he knows how the political attack system works.
"Somebody who is a front-runner for the presidency of the United States should get a thorough vetting," he acknowledged during an appearance at Harvard University Friday. "That's fine, it's the nature of the process. If I'm able to answer them in a way that the American people feel comfortable, then I think I'll be a legitimate front-runner."
Faced with an unfolding story about the millions of dollars he's made through various business ventures tied to political influence (plus continually repeated stories about his marital history), the Gingrich campaign has just launched a new website called "Answering the Attacks."
IN PICTURES: Newt, now and then
"Now that our campaign to rebuild the America we love is gaining momentum, those who want to see us fail are on the attack, digging through Newt's past to try and stop us," the page states.

"See an attack that is not answered?" site visitors are asked. "Let us know here. This page will grow as we receive more feedback to help you answer the attacks."

"One can easily see Gingrich simply citing this page as a blanket, 'we've-answered-that' response to future inquiries," notes Jonathan Martin at Politico.com. "But the sheer volume of issues, and anticipation that more will come, is a reminder of the difficulty the former speaker could have as the glare grows more intense in the weeks ahead."
---
Follow Stories Like This
Get the Monitor stories you care about delivered to your inbox.