'Humane' immigration policy: Is Newt Gingrich the next Rick Perry? (video)
Newt Gingrich said in Tuesday's presidential debate that he couldn't imagine deporting illegal immigrants who have been in the US a long time. When Rick Perry said something similar, his collapse began.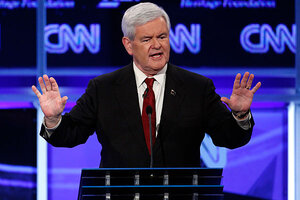 Evan Vucci/AP
Republican presidential candidates sparred over national-security issues Tuesday night, differing sharply on a range of issues – from immigration to aid to Pakistan to the pace of withdrawal from Afghanistan.
The debate was the second focusing on foreign policy and national security issues in a little over a week. It was also the first since former House Speaker Newt Gingrich surged to the top of several polls.
So perhaps the biggest talking point of the night was Mr. Gingrich's stance on illegal immigration. Departing from the orthodox Republican line of opposing any form of amnesty, Gingrich said he could not imagine an America that was not "humane" and that did not allow immigrants who have lived and worked in the country "for 25 years" to remain in their families and communities and legalize their status.
That prompted Gingrich's rivals to pounce, with Rep. Michele Bachmann of Minnesota labeling his plan "amnesty" and former Massachusetts Gov. Mitt Romney saying it would create a "magnet" for further illegal immigration.
Texas Gov. Rick Perry, who heads the state with the longest stretch of the southern border, promised to "shut down" the US-Mexico border within a year of taking office. After that, he said, the issue of what to do about illegal immigrants already in the country could be addressed.
---