Herman Cain admits payments to Ginger White, edges toward quitting
In an interview with New Hampshire's Union Leader newspaper, Herman Cain said his wife didn't know he was giving money to Ginger White, who claims to have had a 13-year affair with him. Cain also said quitting the presidential race 'is an option.'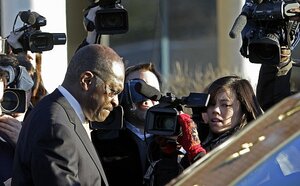 Jim Cole/AP
Besieged by reports of personal misconduct involving women other than his wife, plus growing critical comment from conservative commentators and some Republican officials, Herman Cain says he's considering dropping out of the presidential race.
The drip, drip, drip of revelations related to Cain's conduct and character continued Thursday when he met with the editors of New Hampshire's statewide Union Leader newspaper, a powerful conservative voice in Republican politics.
Cain acknowledged that he had been giving money to Ginger White, the woman who alleges that she had a 13-year affair with the Republican businessman. He also said that his wife Gloria did not know about that – or even that Ms. White was a friend of Cain's – until the alleged affair was reported in recent days.
Cain would not say how much money he had given White, but he told the Union Leader "that he repeatedly gave Ginger White money to help her with 'month-to-month bills and expenses' without telling his wife."
"She was out of work and had trouble paying her bills, and I had known her as a friend," Cain said, emphasizing that there was no sexual affair. "She wasn't the only friend who I had helped in these tough economic times, and so her messages to me were relating to 'need money for rent' or whatever the case may be. I don't remember all the specifics."
"I'm a soft-hearted person when it comes to that stuff. I have helped members of my church. I have helped members of my family," he said. "And I know a lot of other people who had done the same thing, and sometimes, quite frankly, it was desperation."
Still, Cain has been hard put to explain the 70 text messages he received from White over a four-month period.
Cain, once a prominent first-tier contender in the race for the GOP presidential nomination, has seen his standing in polls slide following a series of gaffes regarding important issues along with allegations of sexual harassment by four women.
---
Follow Stories Like This
Get the Monitor stories you care about delivered to your inbox.