Newt Gingrich and Mitt Romney: How different are they on the economy?
If Newt Gingrich is the new 'anti-Romney,' shouldn't they have fundamental differences? While the two share some views on core economic issues, Gingrich has staked out other positions well to Romney's right.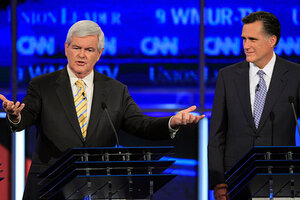 Jim Cole/AP/File
If Newt Gingrich has become the leading challenger to Mitt Romney, then a basic question is pertinent to their looming duel for the Republican presidential nomination: Where do they diverge on policy?
For all the talk about Mr. Gingrich as the new "anti-Romney," gaining traction with voters who see the former Massachusetts governor as failing the true-conservative test, the two have some major similarities when it comes to the economic issues that are central to the 2012 election campaign.
Both have staked out staunch conservative positions on some fronts: keeping the Bush tax cuts in place, repealing Obama's health-care reforms, eliminating the estate tax.
Yet both face some doubts from core conservative voters in their party. Mr. Romney takes heat for supporting a Massachusetts law mandating that individuals buy health insurance, but Gingrich has voiced support for that basic idea. Gingrich has caught flak for supporting a path toward legal status for many illegal immigrants, yet Romney also opposes blanket deportation.
The point of these comparisons isn't that the two offer carbon-copy platforms. Big differences do exist (coming in a moment).
But to the degree that primary voters focus on similarities, that could work in Romney's favor as he seeks to fend off Gingrich's rise. He can use the parallels to argue for his credentials as someone in the conservative mainstream of his party. And his campaign can argue that Romney's perceived flaws are shared by his rival.
---