Herman Cain 'suspends' presidential campaign, effectively ending it
Herman Cain continues to deny any wrong doing involving other women. But the "continued distraction" has led him to suspend his campaign, ending what had been a meteoric political rise.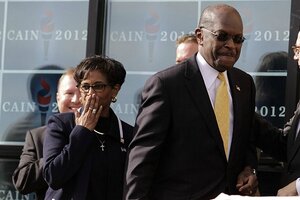 John Adkisson/Reuters
Faced with continued allegations of inappropriate behavior involving women, Herman Cain has "suspended" his presidential campaign – effectively ending it.
Cain continues to vigorously deny any wrong-doing. With his wife Gloria standing nearby, smiling and applauding, Cain said: "I am peace with my God. I am peace with my wife, and she is at peace with me. I am at peace with myself."
But "with a lot of prayer and a lot of soul-searching," he said, "I am suspending my presidential campaign because of the continued distraction, the continued hurt caused me and my family."
Cain also noted the impact on his ability to raise the campaign funds necessary to stay competitive in a field that – for the moment, at least – includes two strong and politically experienced front-runners, Mitt Romney and Newt Gingrich. Undoubtedly, that was the most important tactical reason for Cain's dropping out of the race.
Herman Cain speaks out: His seven most memorable one-liners
Just hours before his announcement Saturday, the Des Moines Register's new Iowa Poll showed Cain in political free-fall.
---