Newt Gingrich surges in Iowa. Will it last?
Newt Gingrich leads the Republican pack of presidential hopefuls in the key state of Iowa, according to a new poll out Sunday, and he seems likely to pick up Herman Cain's endorsement.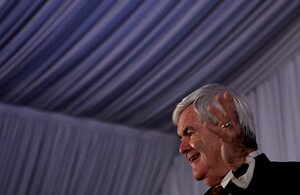 Craig Ruttle/AP
At this point in the race for a Republican presidential nominee – just one month out from the Iowa caucuses – it seems to be Newt Gingrich's to lose.
He's got the wind at his back in most polls – especially the closely-watched Des Moines Register's Iowa poll out Sunday. Just as important (perhaps more so), he's way ahead of the pack when likely primary election voters' second choice is taken into account.
Unlike Herman Cain, who dropped out Saturday, Gingrich's personal failings involving women other than his wife occurred a decade or more ago. Significantly, many evangelical leaders (if not their followers) have accepted his prayerful contrition.
To most Republicans, it doesn't matter that he may have flip-flopped on such issues as climate change and an individual mandate on health care; he's on the right side now. And if his position on illegal immigrants is more nuanced than his thrown-'em-all-out presidential rivals, that's a reminder of the compassionate conservatism the Republican Party once espoused.
Democrats, of course, see Gingrich differently, and many dream of a race in which President Obama's impressive re-election forces and the media really dig into the former House Speaker's past – looking deeply and critically at the sometimes squirrely ideas he's put forth (replacing school janitors with kids pushing brooms), his money-making ventures that have made him the quintessential wealthy Washington insider (including lobbying for the health care industry and housing mortgage giant Freddie Mac), a personality that comes across as aloof and arrogant.
---