In Kansas, a combative Obama tries on his Teddy Roosevelt hat
In the Kansas town where Teddy Roosevelt called for a progressive 'New Nationalism,' Obama delivered a populist appeal fairness through taxes and regulation and an indictment of the GOP agenda as he sees it.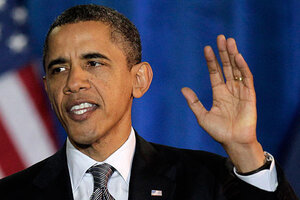 Charlie Riedel/AP
When George W. Bush was president, he eschewed discussion of his place in history. President Obama seems to welcome it.
Whether it's his first presidential campaign launch in Springfield, Ill., Abraham Lincoln's home town, or praise for Ronald Reagan's ability to change the nation's trajectory, Mr. Obama regularly dips into the presidential record books for current meaning.
Tuesday it was the turn of Theodore Roosevelt, the 26th president and a Republican. In a speech in Osawatomie, Kansas, where President Roosevelt delivered a call for a progressive "New Nationalism" 101 years ago, Obama played off similar populist themes of equal opportunity and fairness through taxes and regulation.
"I'm here in Kansas to reaffirm my deep conviction that we are greater together than we are on our own," Obama told an enthusiastic crowd at Osawatomie High School. "I believe that this country succeeds when everyone gets a fair shot, when everyone does their fair share, and when everyone plays by the same rules."
---
Follow Stories Like This
Get the Monitor stories you care about delivered to your inbox.