Why Republican efforts to corral Jewish vote may come up short
As expected, Republican presidential candidates courting the Jewish vote made mention Wednesday of Israel and Iran, but experts say it's unrealistic to expect they'll make major inroads on Jewish support for Obama.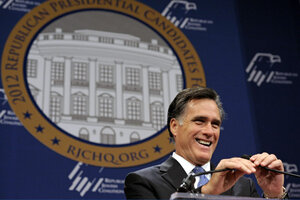 Cliff Owen/AP
One by one, Republican presidential candidates auditioned before Republican Jewish activists Wednesday, touting their conservative economic philosophies and love of Israel.
Inevitably, fears that Iran is obtaining a nuclear-weapons capability came to the fore, as the candidates tried to one-up each other on toughness.
"I want every country in the region that harbors aggressive designs against Israel to understand that their ambition is futile and that pursuing it will cost them dearly," former Massachusetts Gov. Mitt Romney told the Republican Jewish Coalition in Washington.
Former Utah Gov. Jon Huntsman, who is trying to use his foreign policy expertise to catch on in the race, also rattled his saber at the prospect of a nuclear Iran. "All options are on the table," he warned.
In her remarks, Rep. Michele Bachmann of Minnesota used the 70th anniversary of the Japanese attack on Pearl Harbor to liken Iran to World War II Japan. "We are ignoring the warning signs, and I worry what other 'Pearl Harbors' might be in our future," Representative Bachmann said.
But, as the 2012 presidential campaign kicks into gear, it's a stretch to suggest that Obama's Jewish vote – 78 percent in the 2008 election – is in jeopardy.
---