GOP candidates blast Ron Paul over Iran policy. Is one side crazy?
After Thursday night's GOP candidate debate, a political analyst suggested the Ron Paul hands-off position toward Iran 'jumped the shark.' Mr. Paul says intervention is what's truly nuts. Here are their arguments.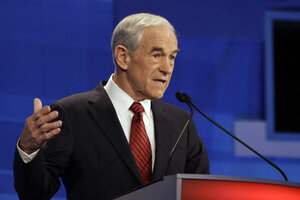 Eric Gay/AP
If you're wondering why Ron Paul is sometimes called an isolationist on foreign policy, his role in Thursday night's Republican debate sheds some light.
The congressman from Texas won some loud applause, but also walked out on a precarious limb with many conservative voters, for picking a fight with fellow Republican candidates on US military policy.
The issue was Iran.
Here's a look at who said what, and the sharp divide over foreign policy and national defense that it illuminated. The chasm was so wide that it left some political analysts saying Mr. Paul sounded crazy. ("Jumped the shark" was the specific phrase used by an analyst with the Fox News network, which hosted the debate.)
For his part, Paul was arguing that other Republicans are essentially pursuing a crazy policy. "Absurd" and "dangerous" were words he used. He also, on the day US military operations officially ended in Iraq, called the war launched there in 2003 by the US and its allies "useless."
Paul and his rivals for the Republican presidential nomination clashed over the seriousness of the threat from Iran, what Iran's geopolitical objectives are, and what US policy should be.
---