Why 2012 could be the year of the third-party candidate
Nonpartisan group Americans Elect wants to mount a third-party challenge in Election 2012, and it just qualified for the California ballot. A third-party candidate could get traction, experts say.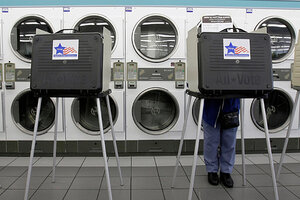 Charles Rex Arbogast/AP/File
One bid to mount a serious third-party challenge in the 2012 presidential elections cleared an important hurdle Tuesday.
Americans Elect, which intends to hold a nonpartisan nominating convention online and put the winner on the ballot in all 50 states, earned a spot on the California ticket.
The nonprofit group has already won ballot certification in 11 other states – including the swing states of Florida, Michigan, Nevada, Ohio, and Colorado. And some political analysts say that a confluence of factors – ranging from the weak economy to growing voter dissatisfaction with the two main parties – could lead to a third-party candidate potentially having a major impact.
"The old adage is that third-party candidates act only as spoilers and make people mad with no chance to win, but this year may be different," says Barbara O'Connor, director of the Institute for Study of Politics and Media at California State University, Sacramento.
Not only has voter angst created fertile ground for a third-party appeal, there has also been a rise in the number of voters who don't identify themselves with either major party.
"They [Democrats and Republicans] have their work cut out because voters really deeply feel that the two main parties have not functioned, and people are tired of it and ready for the rise of a third party," says Ms. O'Connor.
---