Mitt Romney bus tour: second chance at first impression in New Hampshire
Mitt Romney has launched a three-day bus tour in New Hampshire, in part, to erase his aloof image. He's giving more interviews and shaking more hands – and getting a bump in the polls.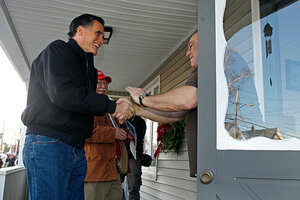 Charles Krupa/AP
Mitt Romney's three-day bus tour across northern New Hampshire this week may be rural voters' last chance to meet up close with the man who's been campaigning here for years in the hopes of becoming president.
Dubbing it the "Earn It" tour, the former Massachusetts governor is reassuring Granite Staters that he doesn't take their votes for granted, even though he's led in the polls for months.
With just over three weeks left before the Jan. 10 first-in-the-nation primary, Mr. Romney is projecting the confidence of a front-runner while at the same time redeeming himself from a reputation of having kept both the press and voters at arm's length during much of the campaign.
"After we've had a series of flavor-of-the-month candidates pop up ... he's trying to seal the deal in New Hampshire now that it looks like Newt Gingrich's star is on the wane," says Chris Galdieri, a politics professor at St. Anselm College in Manchester, N.H.
Romney has taken a few moments to respond to Mr. Gingrich's suggestion that he's gone negative in Iowa, largely funded by Romney supporters. Perhaps Romney's most quoted moment yesterday, during a stop in Keene: "If you can't stand the relatively modest heat in the kitchen right now, wait until Obama's Hell's Kitchen shows up."
This morning, he declined Gingrich's challenge to meet in a one-on-one debate.
Mr. Romney launched the bus tour with a speech designed to show he's the clear contender against President Obama. And at stop after stop, he's emphasized his business experience and plans to shore up the economy.
---