Racist newsletters put Ron Paul on the defensive for first time
Long-ago Ron Paul newsletters are getting attention for their inclusion of slurs against black Americans. The Texas congressman is also taking fire for his foreign policy views.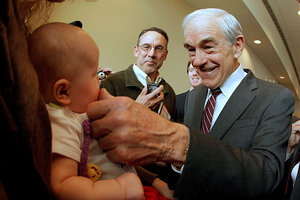 Charlie Riedel/AP
The pattern isn't surprising: As his chances of showing significant strength in early primaries have grown, Republican candidate Ron Paul is facing closer scrutiny.
The press and his rivals for the GOP nomination aren't going to give him a free pass in his bid for voter support.
What's suddenly big news is the racial content of Ron Paul newsletters from prior decades, which are getting attention for slurs against black Americans. But the so-called "racist newsletter" scandal is not the only front on which the Texas congressman is taking fire.
Other candidates have blasted his foreign policy positions, which are also the subject of a critical opinion column in Thursday's Wall Street Journal.
To some degree, Mr. Paul is getting what he's given. In the build-up to primary votes in Ohio and New Hampshire, he has served up some strong criticism of other Republican candidates.
Whatever has prompted the current negative headlines about Paul (whether it's partly his own negative ads about rivals or not), the onus is now on him. After dishing it out, he needs to show he can take it – and provide an adequate response.
---