Obama would trounce Romney, Perry among Latino voters, survey finds
At least two-thirds of Latino registered voters prefer President Obama over Mitt Romney or Rick Perry, a new survey shows. Both do worse than John McCain did in 2008, signaling GOP is not making hoped-for gains among Latinos.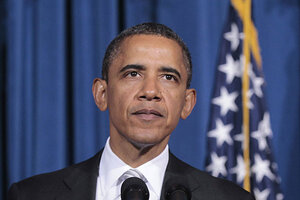 Pablo Martinez Monsivais/AP/File
Most Latinos in the United States disapprove of the rise in deportations of illegal immigrants under the Obama administration. But in hypothetical matchups with two Republican presidential candidates, President Obama wins handily, according to a new survey by the Pew Hispanic Center.
Against former Massachusetts Gov. Mitt Romney, Mr. Obama wins 68 percent to 23 percent among Latino registered voters. Obama also beats Texas Gov. Rick Perry, 69 percent to 23 percent.
The fast-growing Hispanic population represents a crucial voting bloc next November. Republicans acknowledge that their nominee must do better against Obama in 2012 than John McCain did in 2008, when Obama won 67 percent of the Hispanic vote, versus 31 percent for Senator McCain. In 2004, when President George W. Bush was reelected, he won 44 percent of the Hispanic vote.
The Pew Hispanic Center survey demonstrates how steep the challenge is for the eventual Republican nominee.
---