Iowa caucus results: For Romney, what constitutes a win?
Aides say Mitt Romney, after running a streamlined Iowa caucus campaign, does not have to 'win this thing' outright to score a victory. But if he's not in first, it matters who finishes ahead of him.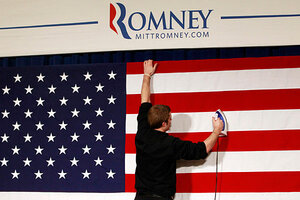 Charles Dharapak/AP
There has been much ado about Mitt Romney's assertion that he would "win this thing" – presumably, the Iowa caucuses, which convene Tuesday evening at 7 p.m. central time.
Team Romney has worked hard for months to keep expectations low and not overpromise, after spending $10 million here four years ago and losing to the late-surging Mike Huckabee. So his caucus-eve burst of exuberance Monday raised eyebrows. First thing Tuesday, Mr. Romney walked it all back on MSNBC, where he predicted he'd be among the "top group" – first, second, or third, he said.
But forget about coming in third. That would be embarrassing, unless the top three are all bunched in a near-tie. After all, he came in first in the Des Moines Register poll last Saturday, albeit with just 24 percent and with Ron Paul close behind. Second is tolerable, but he would have to be reasonably close to the top finisher. It would also matter who's ahead of him.
"If he came in second to Paul, I don't think people would worry much," says Dennis Goldford, a political scientist at Drake University in Des Moines. "If he's second to [Rick] Santorum, that solidifies him as the un-Romney."
---