Iowa caucus results: Mitt Romney wins by a whisker over Rick Santorum
Iowa caucus results show Mitt Romney beat Rick Santorum by eight votes. Now, the importance of the South Carolina primary grows.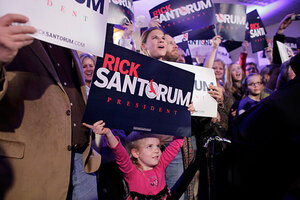 John Gress/Reuters
Moderate former Massachusetts Gov. Mitt Romney just barely edged out surging conservative former Sen. Rick Santorum of Pennsylvania in the Iowa Republican caucuses. The two candidates from different wings of the party were locked in a near-tie: each had 24.5 percent. Only 8 votes separated the two.
The libertarian-leaning Rep. Ron Paul of Texas to finish third, with 21.5 percent. Former House Speaker Newt Gingrich is in fourth with 13.3 percent. Texas Gov. Rick Perry is fifth with 10.3 percent. Rep. Michele Bachmann is sixth with 5.1 percent.
The close finish for the top two spots means the Republican nomination race leaves Iowa with an air of indecision. Next up is the New Hampshire primary on Jan. 10, where Mr. Romney is expected to win easily. But his status as a favorite son there could diminish the meaning of such a victory.
---