How GOP's rising Rick Santorum could compete through Super Tuesday
Rick Santorum lost Iowa to Mitt Romney by a mere eight votes, emerging as the conservative alternative to the former Massachusetts governor. The question: How fast can Santorum build a national organization and war chest?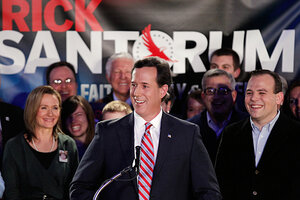 Charlie Riedel/AP
Eight votes. Of the 122,255 votes cast on a frosty January evening in Iowa, that's all that separated the winner of the state's storied caucuses, Mitt Romney, from his surging rival, Rick Santorum.
In an almost eerie coincidence, Mr. Romney won nearly the same percentage of the vote, about 25 percent, as he did in the Iowa caucuses four years ago, when he lost to former Arkansas Gov. Mike Huckabee. That result reinforces questions about the former Massachusetts governor's ability to grow support among the Republican Party's conservative base.
But aside from the photo finish, the story of the night was Mr. Santorum. The former senator from Pennsylvania barely had a pulse a month ago and has emerged as the conservative alternative to the more-moderate Romney for the 2012 Republican presidential nomination. The question for him is whether he can quickly build a national organization and war chest to compete effectively against the well-funded and well-organized Romney.
"If Santorum can get his act together, the GOP primary could certainly go beyond Super Tuesday," says Republican strategist Ford O'Connell, referring to March 6, when 10 states hold primaries and caucuses.
---