Iowa caucuses confirm evangelicals reject Romney. What else do they show?
Entrance polls to Iowa caucuses reveal the likes and dislikes of various GOP factions. They show, for one, that Republicans who care about 'electability' prefer Mitt Romney, but that evangelicals and die-hard conservatives do not.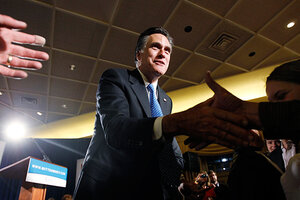 Charles Dharapak/AP
Iowa often takes heat for being first in line to judge presidential candidates, despite having a population that is hardly representative of the nation as a whole.
Indeed, Iowa is largely white, and Republican caucusgoers more evangelical, more male, more conservative, and better off financially than the country as a whole.
Still, we can learn a lot about the Republican presidential field from the entrance polls of the Iowa caucuses.
Evangelicals: Mitt Romney, the winner of the caucuses by just eight votes over Rick Santorum, clearly has a problem with evangelicals. Mr. Romney won just 14 percent of those who describe themselves as either evangelical or born-again Christian, while Mr. Santorum won that demographic, with 32 percent. That won't matter much in New Hampshire, but it's important in the South Carolina primary on Jan. 21. It also matters in northern Florida, which is part of the Old South. Florida's primary is on Jan. 31.
Conservatives: Romney, the former governor of Massachusetts, also faces a deficit among those who self-identify as "very conservative." He won only 14 percent of those caucusgoers, down from 23 percent of that group in 2008. Santorum, a former senator from Pennsylvania, won a plurality of the "very conservative" with 34 percent. Romney beat out the field among voters who are "somewhat conservative" with 33 percent and those who are "moderate," with 38 percent. But in a cycle fueled by conservative angst about government spending and the economy, Romney needs to win their support if not their love.
---