Romney, Santorum bash Obama recess appointment. Why that could backfire.
The Obama administration argues that the recess appointment is necessary so the CFPB can perform its duties despite Republican obstructionism. Republicans may challenge the president in court.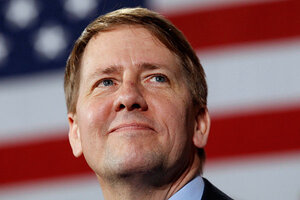 Kevin Lamarque/REUTERS
Republicans in Congress aren't the only ones criticizing President Obama for making a controversial "recess appointment" to install Richard Cordray as head of a new agency, the Consumer Financial Protection Bureau (CFPB).
So have the presidential candidates who posted the strongest finishes in the Iowa's Republican caucus Tuesday.
Mitt Romney called the move "Chicago-style politics" that will harm the economy and job growth.
Rick Santorum said "this is not something that the president should get away with," suggesting that the Senate take Mr. Obama to court to overturn the appointment.
It isn't just the new financial-sector watchdog in the eye of this storm.
Obama followed his appointment of Mr. Cordray Wednesday, during a Senate break, with similar recess appointments to another body that has stirred partisan rancor in recent months: The National Labor Relations Board (NLRB).
"This president ... is engaging in crony capitalism," Mr. Romney said in New Hampshire Thursday, according to a New York Times report. "It is happening with the Labor Relations Board." Romney's implication is that some of Obama's appointees are aligned ideologically with organized labor.
Romney is also rolling out a TV ad in South Carolina, one of the next primary contests, that criticizes recent labor board decisions.
---