Why Ron Paul, graybeard of GOP race, lights up the youth vote
Ron Paul strikes a chord with young voters, who are attracted to his renegade views on foreign policy, the economy, and, yes, marijuana. For some, the very fact that he's so outside the box is the main attraction.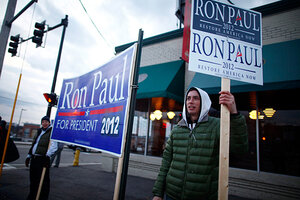 Eric Thayer/Reuters
What does the young, 20-something voter see in a senior-citizen Republican presidential candidate with shaggy brows, isolationist views, and an economic policy that predates 1971? Isn't this the same group that helped to sweep Barack Obama into office in 2008?
We're talking about Ron Paul here, the GOP presidential hopeful who has parents scratching their heads as their college-age offspring gush about Mr. Paul's rather singular views (for a politician) on Iran (leave Tehran's ayatollahs alone), the gold standard (go back to it), and marijuana (legalize it), to name a few.
The appeal, in part, is the very fact that the Texas congressman endorses views that are outside the mainstream – and is willing to say what others won't, according to young Paul supporters and college professors who are watching the captivation among their students.
Listen to Stu Lewitz, a third-year English major at Los Angeles Valley College and a Paul backer.
"Everything he says and does comes from a place that is outside the usual Washington-centric mentality, and that's what this country needs," he says. "We can't get out of this mess with the same lame thinking that got us where we are."
---