Jon Huntsman set to drop out, back Romney. Will it make a difference?
Given the nature of Republican primary voting, moderate GOP candidate Jon Huntsman was a long shot from the beginning. He's set to endorse Mitt Romney, although it's unclear how much difference that will make in a race for the nomination that already favors Romney.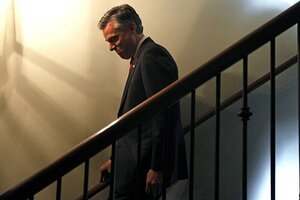 Matt Rourke/AP
And then there were five. Jon Huntsman's withdrawal from the 2012 presidential race, announced Sunday, reduces the number of GOP hopefuls. But it's unlikely to hasten the eventual selection of the Republican nominee, and it's unclear who will be helped most by the former Utah governor's move – even though he's endorsing Mitt Romney.
The fact is, Huntsman's candidacy has been a very long shot from the beginning, and his poll numbers had him at the back of the pack all along – no more than 4 percent, and usually half that if not less. His third-place finish in the New Hampshire primary (behind Romney and libertarian Ron Paul) – the state where he'd focused most of his campaign effort – had to have been a disappointment.
Given the more-conservative hue of Republican primary voters in the upcoming South Carolina primary Saturday, Huntsman's prospects for a comeback were all but nil.
Election 101: Ten facts about Jon Huntsman and his presidential campaign
---