Departing Jon Huntsman decries 'toxic' GOP campaign
Jon Huntsman Monday dropped out of the Republican presidential race, which he said 'has degenerated into an onslaught of negative attacks.' He endorsed Mitt Romney, although that's unlikely to have much impact on the campaign.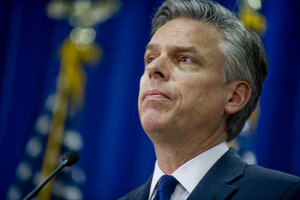 Ann Hermes/Staff
Jon Huntsman made it official Monday – dropping out of the presidential race and endorsing Mitt Romney. In essence, the political world has reacted with a collective shrug.
The former Utah governor's campaign never really got off the ground. He remained at the bottom of the polls, missing out on the surges enjoyed by his rivals trying to knock Romney from the top spot.
Even his endorsing Romney – jumping on a bandwagon headed at a speedy pace toward Saturday's South Carolina primary and beyond – is unlikely to change the GOP presidential dynamic. Remember Tim Pawlenty? He jumped to Romney's ship when he dropped out, and he's barely been heard from since.
The other four remaining candidates are happy to have their numbers whittled down – which could make things more interesting in Monday night's debate on Fox News as they get more time to snap at Romney's ankles. Other than that, they don't see much change.
"Gov. Huntsman ran as a moderate, trying to compete with Gov. Romney for the establishment moderate vote," Rick Santorum told Politico Monday. "Gov. Romney had a leg up on him being a solid moderate that the establishment could get behind. Gov. Huntsman wasn't able to crack through that. So I'm not surprised by that all, and I anticipated that actually sooner than today."
Democrats are sure to replay the nice things Huntsman once had to say about the president he served as ambassador to China – not to mention his sharp comments about Romney. (On camera, Huntsman once called Romney "unelectable.")
---