South Carolina debate: Gingrich and Romney face each other - and their baggage
Mitt Romney and Newt Gingrich are very close in South Carolina polling. Going into Thursday night's four-man debate, the two front-runners each have new personal issues facing them.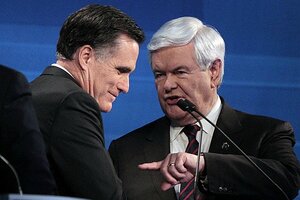 Charles Dharapak/AP
Thursday night's GOP presidential debate in South Carolina sees a candidate line-up whittled down to just four contestants. Texas Gov. Rick Perry is history, having dropped out early in the day and thrown his unqualified support to former House Speaker Newt Gingrich.
But attention will be focused on the two front-runners with the most to win – or lose – in a campaign that has become increasingly divisive as it accelerates through major states toward Super Tuesday and beyond.
Both Mr. Gingrich and former Massachusetts Gov. Mitt Romney have new personal issues to deal with.
For Mr. Romney, it's the impression that he belongs to what Occupy Wall Streeters call the "1 percent" – wealthy beyond the dreams of most Americans and clueless about what those Americans' lives are like.
He's acknowledged that his tax rate likely is a relatively low 15 percent, some of his investments are parked in a Cayman Islands tax haven, and he seems to think that earning nearly $400,000 a year just in speaking fees is "not very much." Under pressure from supporters like New Jersey Gov. Chris Christie (not to mention Democrats), Romney now seems likely to make public his tax returns.
For Gingrich, it's renewed questions of character – specifically, assertions by his second wife in interviews (one of which is to be aired just after Thursday night's debate) that the former speaker asked for an "open marriage" in order to continue an affair with the congressional staffer who later became his third wife.
---