The verdict on Rick Perry: He just wasn't ready, analysts say
The excitement about Rick Perry, with his red-state bona fides and potential as a bridge-builder between the tea party and the GOP establishment, faded as his lack of preparation became evident.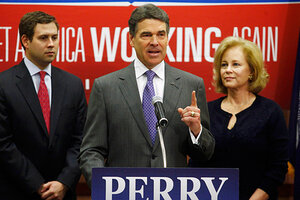 Eric Thayer/Reuters
The higher the hopes, the harder the fall.
Rick Perry's announcement Aug. 13 that he was seeking the GOP nomination created a rush of excitement among Republicans dissatisfied with the field of candidates. With his folksy charm and red-state credentials as governor of Texas, he quickly surged ahead in the polls and pulled in some fast dollars.
But the starry-eyed expectations that the boy from Paint Creek could be the next Ronald Reagan bumped up against the hard reality that he just wasn't well enough prepared to run a strong presidential campaign, political experts say.
"Sometimes someone who looks like a superstar in a particular state can just crash and burn once they're on the national stage – it's a tough, tough arena," says Julian Zelizer, a professor of history and public affairs at Princeton University.
Perry at one point represented the tantalizing potential to build coalitions between establishment and tea party Republicans. "When he does this poorly and is forced to drop out before the primary in the most conservative state, it's a dramatic story, and is going to be disappointing to a lot of Republicans," Professor Zelizer says.
---