Newt Gingrich strikes back, family by his side, in South Carolina
Newt Gingrich fired back against explosive allegations from his ex-wife by wrapping himself in family at an event South Carolina, a state where family values loom large.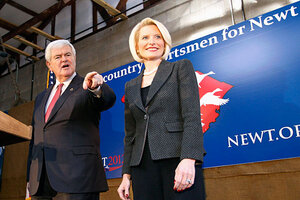 Jason Reed/REUTERS
It's lunchtime in Walterboro, S.C., and supporters are dining on hot barbecue. Newt and Callista Gingrich take the stage set up in an over-size garage, a "Lowcountry Sportsmen for Newt" banner stretched wide across the wall behind them.
Mr. Gingrich launches into introductions. First up, one of his "senior debate coaches" – grandson Robert Cushman, age 10. His other "debate coach," 12-year-old granddaughter Maggie, couldn't be there. She had ballet.
Robert's advice is "to keep it shorter and clearer," Gingrich says, his beaming grandson at his side. "[Maggie's] role is to make sure I smile often enough, because I'm too intense, apparently. So she counts my smiles at every debate."
Also on stage were Gingrich's daughter Jackie, his brother Randy, and sister Susan. This show of family support in the runup to South Carolina's primary Saturday was no accident. ABC News was about to air its interview with Gingrich's second ex-wife, who said he asked her for an "open marriage" back in 1999. Gingrich was by then already long into an affair with Callista.
Thursday's series of events – the campaign appearance with family, followed by his aggressive attack on the media in the evening debate – demonstrated the maxim, "the best defense is a good offense."
Add to the mix a dose of good fortune. Texas Gov. Rick Perry dropped out of the presidential race Thursday and threw his support to Gingrich. Governor Perry acknowledged Gingrich's personal history in his remarks.
"Newt is not perfect, but who among us is?" Perry said. "The fact is, there is forgiveness for those who seek God, and I believe in the power of redemption, for it is a central tenet of my own Christian faith."
---