Why does Mitt Romney have money in the Caymans? Two potential reasons.
The Cayman Islands used to be known as a 'tax haven.' That's not necessarily true anymore, but there could be other reasons for Mitt Romney use the Caymans to store his millions.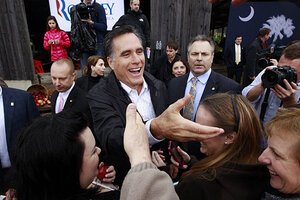 Charles Dharapak/AP
Mitt Romney's official residence is Belmont, Mass., a suburb of Boston. But at least a part of his money resides in the Cayman Islands, best known to many Americans as a nice place to escape winter.
Mr. Romney says he reports his income from there and pays his taxes – and will prove it in April or whenever he releases his taxes – assuming he does.
But why was it there in the first place?
The Cayman Islands used to be known as a "tax haven," a place where people could set up an account with a friendly banker whose lips were sealed. However, tax experts, say in 2009 the Caymans agreed to exchange tax information with at least a dozen IRS-type organizations around the world. Suddenly, it became more difficult to hide assets or income and some banks actually shut down their operations on its sunny shores.
But there could be other reasons to use the Caymans to store millions, other than the discreet bankers.
One of the reasons could relate to Bain Capital, which Romney founded and ran from 1984 to 1999. The company could have been trying to attract foreign investors who did not want to deal with the US tax code. A Cayman Islands-based company could invest in US companies and then move their profits offshore.
---