Latino vote could save Mitt Romney in Florida primary
Momentum has swung against Mitt Romney since Newt Gingrich's resounding win in South Carolina Saturday. But Florida Latinos favor Romney by a wide margin, which could be decisive.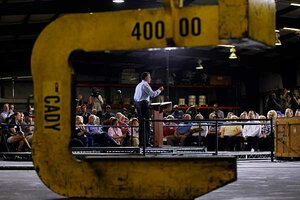 Brian Snyder/REUTERS
Mitt Romney has had precious little good news lately. But Latino voters in Florida may be coming to his rescue.
A poll released Wednesday shows that Mr. Romney, fighting to regain momentum toward the Republican presidential nomination, is performing well ahead of his top rival, Newt Gingrich, among Latino voters in the Sunshine State.
Eleven percent of likely Republican primary voters in Florida are Latino, and among them, 49 percent support Romney versus 23 percent for Mr. Gingrich, according to the poll by Latino Decisions for Univision News and ABC News. [Editor's note: This paragraph his been changed to correct the percentages of support for each candidate.]
"Thus far, Gingrich's shocking victory in Saturday's South Carolina primary has not triggered a significant boost in his Latino support in Florida," write Matthew Jaffe of ABC and Jordan Fabian of Univision. "In the final days of polling, Sunday and Monday, Gingrich's Latino support in Florida only increased by 2 percentage points."
Florida Republicans go to the polls next Tuesday in a crucial test for the party's top two contenders. Florida is one of the biggest prizes on the primary calendar, with 50 GOP convention delegates at stake – all of whom will be awarded to next Tuesday's winner.
---