Conservatives turn on Newt Gingrich, compare him to Bill Clinton
A growing number of critics on the right are casting aspersions on the conservative credentials of Newt Gingrich, saying that he, like Bill Clinton, is a '1960s-generation self-promoter.' Gingrich dismisses the claims as the sour grapes of Republican elites.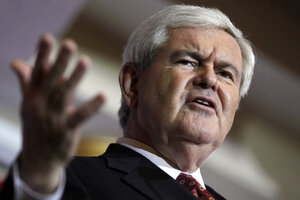 Matt Rourke/AP
Republican presidential hopeful Newt Gingrich told Florida voters that he's "channeling Reagan" in his campaign, but he faces a rising tide of critics on the right who question that claim.
The fracas isn't just about whether the former House speaker really has a lot in common with President Reagan or not. It's also about the same question that has dogged Mr. Gingrich's top rival, Mitt Romney: Is he's enough of a true conservative to be the party's standard-bearer against President Obama this fall?
Gingrich is clinging closer to the Reagan mantle ahead of a high-stakes primary vote in Florida, even as conservative critics have mounted a growing effort to discredit Gingrich on that front. The influential Drudge Report website loaded its home page Thursday with links to comments in which Gingrich, during the 1980s, publicly parted company from Reagan.
That comes as conservative columnist Ann Coulter ramped up her message that Gingrich is less electable than former Massachusetts Governor Romney. Her latest column is titled, "Re-elect Obama, Vote Newt!"
---