Can economy help Obama reelection? One statistic gives him hope.
Since 1948 only one incumbent president has won reelection with joblessness over 7 percent. There is another unemployment statistic, however, that could play in President Obama's favor.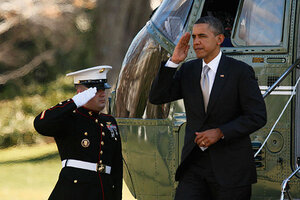 Larry Downing/REUTERS
With the nation's jobless rate edging downward and news Friday that the economy grew at a 2.8 percent pace in the fourth quarter, it's possible that the state of the economy may now be transforming from a political millstone into less of a losing issue for President Obama.
Polls released this week show President Obama ahead in potential match-ups against Mitt Romney or Newt Gingrich.
But Obama is still struggling with low approval ratings, and forecasters generally envision a tight race for the White House, with still-high unemployment offsetting Mr. Obama's status as the incumbent.
It certainly doesn't look like he'll coast to an easy win.
Consider that in the time period since 1948 (for which monthly unemployment data are available) only one incumbent president has won reelection with joblessness over 7 percent. That was Ronald Reagan in 1984. Today the unemployment rate is higher than it was then, and many economists expect it to remain above 8 percent through much or all of 2012.
But here's another data point to consider: No incumbent seeking reelection has lost with unemployment falling for two years prior to the vote.
It may be the relative direction of the economy, rather than the absolute level of unemployment, that most determines voters perceptions of how a president is doing on pocketbook issues.
If that's the case, Obama's reelection hopes look brighter.
When Reagan was reelected, joblessness was high but had been falling for two full years.
---