Why Florida's Latino Republicans tilt toward Mitt Romney
The question of who wins Florida's Republican Latino vote could determine who wins the Florida primary Tuesday. Polls show Mitt Romney in front, but Newt Gingrich is not out of it.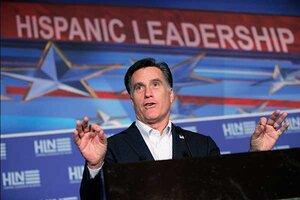 Charles Dharapak/AP
Heading into Tuesday's pivotal GOP primary in Florida, Mitt Romney clearly has stronger support than Newt Gingrich among the state's influential Republican Latino community.
It was evident on Friday, when an energized Mr. Romney got a more enthusiastic reception than Mr. Gingrich at a conference near Miami of the Hispanic Leadership Network, an advocacy group founded by former Florida Gov. Jeb Bush (R).
A recent survey bears that out. Forty-nine percent of Latino likely voters in Florida's Republican primary back Romney, with Gingrich coming in a distant second at 23 percent, according to a poll by Latino Decisions for ABC News and Univision. Eleven percent of the Republican primary electorate is Latino, and in a close race, could tip the scales.
Romney is also supported by four of the state's most prominent Latino politicians – all of them Cuban-American, the largest subgroup of Florida's 1.5 million Hispanics. Former Sen. Mel Martinez is honorary co-chair of Romney's National Hispanic Steering Committee, and Rep. Ileana Ros-Lehtinen, Rep. Mario Diaz-Balart, and his brother, former Rep. Lincoln Diaz-Balart, are all committee co-chairs.
---