Polls show Florida rout. Can Newt Gingrich survive till convention?
Even if he loses in Florida, Newt Gingrich might be able to remain a factor in the GOP presidential race until the national convention. But the Republican establishment would not be pleased.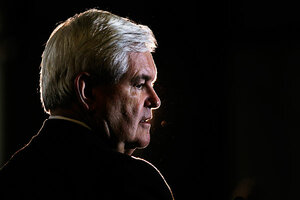 Matt Rourke/AP
Newt Gingrich appears headed toward a big defeat in Tuesday's GOP primary in Florida. Five polls out Monday show Mitt Romney ahead of him by at least 5 percentage points (Insider Advantage) and as much as 20 points (Suffolk University). In the Real Clear Politics average of recent polls, Mr. Romney leads Mr. Gingrich by 12.5 points.
The polls reflect a stunning reversal of fortune for the former House speaker, who trounced Romney in the South Carolina primary only nine days ago by nearly 13 points. Gingrich is reacting defiantly, insisting that the Republican nomination race will go on all the way to the party's convention in August.
Candidates in trouble always say they're in it for the long haul. After all, why telegraph to your supporters that you may be a lost cause? And after Tuesday, only a tiny fraction of convention delegates will have been awarded.
But in Gingrich's case, he may mean it. He has long dreamed of becoming president, and at age 68, this is likely his last chance to be taken seriously as a presidential candidate. But first, there's the question of money.
"It is conceivable that Gingrich could stay alive but he has to replenish his campaign coffers first," says Ford O'Connell, a former aide to the McCain campaign in 2008.
---