Are new unemployment figures a boost for Obama?
Unemployment in the US has fallen to 8.3 percent, the lowest level since February 2009. It looks like good news for President Obama, but Republicans aren't buying it. And there are other political and economic trends that should give the White House pause.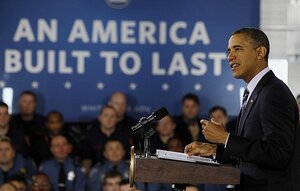 Larry Downing/Reuters
Friday's good news on the economy – an unemployment rate that dropped to 8.3 percent in January as the economy added 243,000 jobs – might have caused the White House staff to do cartwheels. If you're going to get blamed when things are rough, why not celebrate when they go well?
But that would have been behind closed doors, and the official response was more measured.
"These numbers will go up and down in the coming months, and there's still far too many Americans who need a job or need a job that pays better than the one they have now," President Obama said. "But the economy is growing stronger."
Came the quick retort from Mitt Romney, front-runner in the GOP race to try and unseat Obama: "Not so fast, Mr. President. This is the 36th straight month with unemployment above the red line your own administration drew. The real unemployment rate is over 15 percent. Mr. President, America has also had enough of your kind of help."
(Romney's "real unemployment rate over 15 percent" apparently includes the underemployed and those who've gotten discouraged and stopped looking.)
So the political question is: How much can Obama be credited with what looks to be an economic turnaround – if indeed that's what we're seeing?
On ABC's "This Week" Sunday, Larry Summers, Obama's former economic adviser who served as Treasury Secretary in the Clinton administration, put a positive spin on the new employment figures.
---