Romney wins big in Nevada; Gingrich vows to fight on
Mitt Romney cruised to a comfortable win over his GOP rivals in the Nevada caucuses Saturday. Following strong recent debate performances and his big win in Florida, that gives him momentum going into the next presidential nominating contests.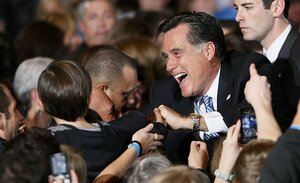 Rick Wilking/Reuters
In Nevada Saturday night, Mitt Romney won two big contests.
One was the Republican caucuses, where he cruised to a comfortable double-digit lead over Newt Gingrich. The other was the expectations game – doing as well as the polls had predicted, and in some ways better.
Romney swept most categories of voter, showing particular strength among evangelical Christians, according to entrance polls taken as caucus-goers arrived for the speechifying and voting.
Entrance polls showed Romney won a wide cross-section of Nevada voters, capturing moderates, conservatives, tea party supporters. Perhaps most important, he won among those who said they were backing the man they thought had the best chance of beating Barack Obama – by a whopping 74-18 percent over Gingrich, reported CNN.
RECOMMENDED: Will Mitt Romney's 'Mormon moment' help his campaign?
For much of the evening, the more interesting race in fact was between Gingrich and Ron Paul for second place.
To be sure, Romney went into Nevada with a lot going for him: A state organization that's been in place since he won the 2008 caucuses. Ninety percent support among the large Mormon population there, which makes up about a quarter of registered Republicans. And a campaign war chest (and an independent super Pac) that allowed him to run many more ads than his rivals, many of them negative.
---