What went wrong for Mitt Romney in Colorado? (+video)
Mitt Romney downplayed expectations going into Tuesday night, and it was predicted he could lose to Rick Santorum in Minnesota and Missouri. But his loss in Colorado was a shocker.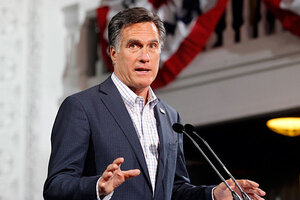 Gerald Herbert/AP
Tuesday was a bad night for Mitt Romney.
He downplayed expectations going into the night, and the little polling that had been done suggested that he was likely to lose to Rick Santorum in the Minnesota caucuses and the Missouri primary (which, since it won't be used to select delegates, had only symbolic value).
But his loss in Colorado was a shocker.
Polls from Public Policy Polling showed him ahead by a comfortable 10 points in the state, and he won Colorado with 60 percent of the vote in 2008. Colorado even has a significant Mormon population – though far less than in Nevada, a state Mr. Romney won comfortably just a few days earlier – but it failed to help him much. Romney lost to Mr. Santorum by 5 points in Colorado, and was trounced in Missouri and Minnesota.
"Nobody saw this coming," says Kyle Saunders, a political scientist at Colorado State University, noting that the political betting market Intrade gave Romney a 97 percent chance of winning Colorado just before the caucuses. "I think there were some signs ... but everybody assumed that Romney's organization and advantages and money were going to carry the day for him."
So what went wrong for Romney in Colorado? Or, what did Rick Santorum do right? And what does it mean for the rest of the nomination battle?
---