Mitt Romney at CPAC: a chance for revival
CPAC, this week's conservative extravaganza in Washington, would not seem to play to Mitt Romney's strengths. But his speech Friday could present him with an opportunity.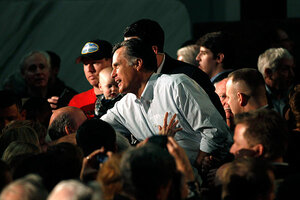 Gerald Herbert/AP
Four years ago, Mitt Romney used his appearance at CPAC – the big, annual Conservative Political Action Conference here in Washington – to drop out of the presidential race. Then, he was the conservative alternative to the eventual nominee, John McCain. And when Mr. Romney made his announcement, the crowd groaned with disappointment.
How things have changed. In 2012, Romney is seen as the moderate in the presidential race. And his address at CPAC on Friday is his chance to create enthusiasm for his campaign among the conservative base.
Since Mr. Romney's stunning loss in three, albeit non-binding, contests on Tuesday, the political universe has been buzzing with advice: Project a "vision." Stop reciting the lyrics to "America the Beautiful" – we get it, you're patriotic. Explain how you would change Washington in moral terms, don't treat it a management problem.
The list goes on and on. But the problem is real: Romney on the stump can utterly fail to inspire. At times he succeeds.
---