Rick Santorum: Can Democrats' 'mischief vote' give him Michigan win?
Michigan is an 'open primary' state, so some liberal commentators are calling for Democrats to cast a primary vote for the candidate they say is less likely to beat President Obama in the fall.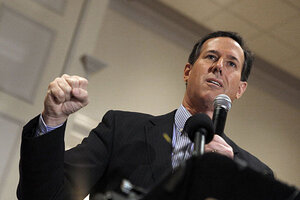 Paul Sancya/AP
Psst, here's a tip about the Republican Primary in Michigan: You don't have to be a Republican to vote next Tuesday.
Lately some liberal commentators have been urging Democrats to take Michigan's status as an "open primary" state in an unusual direction: Vote for the candidate you may dislike the most (Rick Santorum) in order to help the candidate you really support (Barack Obama).
Some are calling this a dirty trick. Some say it could backfire for Democrats. And others doubt that such a sabotage tactic will play a meaningful role in the Michigan outcome.
But everyone agrees that Democrats and independents can play an important role in Michigan's Republican primary, as they account for perhaps 30 percent of all ballots cast. And if Mr. Santorum were to win Michigan, that would deal yet another big setback to the campaign of Mr. Romney, who is viewed in public opinion polls as the "most electable" of the potential Republican challengers to President Obama.
Here's how liberal blogger Markos Moulitsas publicized the case for what he calls "Operation Hilarity" a few days ago:
"It's time for those of us who live in open primary and caucus states – Michigan, North Dakota, Vermont and Tennessee in the next three weeks – to head out and cast a vote for Rick Santorum," he wrote on the Daily Kos website. "Why would we do such a crazy thing? Lots of great reasons!"
---