At CNN debate, Rick Santorum skewered over 'bridge to nowhere'
GOP presidential hopeful Rick Santorum took a pounding from rivals over his Senate record, during the CNN debate Wednesday. MItt Romney reminded voters of Santorum's vote for the so-called 'bridge to nowhere.'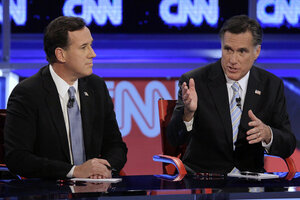 Jae C. Hong/AP
There's a reason the vast majority of senators who run for president don't succeed: They can't explain themselves without getting lost in the weeds of Congress-speak.
Barack Obama, of course, is a notable exception. Maybe that's because he was a senator for only four years before becoming president. But former Pennsylvania Sen. Rick Santorum, who has been flying high lately in Republican primary polls, may just have come down to earth in Wednesday night's Republican debate in Mesa, Ariz. Over the two hours, he was pummeled by Mitt Romney and Ron Paul over positions and votes he took during his 12 years in the Senate that conflict with current-day conservatism.
The debate was the last before next Tuesday's crucial primaries in Michigan and Arizona, followed by the 10 contests on Super Tuesday, March 6. Mr. Santorum and Mr. Romney are neck and neck in Michigan, Romney's home state and a key test of his ability to appeal to voters in the industrial heartland.
In the attacks on Santorum, earmarks – special projects for the home state or district – were Exhibit A. Santorum tried to explain that there were good earmarks and bad earmarks, launching into a discussion of the V-22 Osprey military aircraft and his efforts to save the program.
"I didn't follow all of that," said Romney, the former governor of Massachusetts, a comment that seemed aimed more at showing his lack of time in Washington than a lack of comprehension.
---