Rick Santorum in Congress: why his record is costing him now
Some see Rick Santorum as an uncompromising firebrand of a culture warrior, but his rivals are focusing their attacks on his legislative record in Congress, which bridged party lines.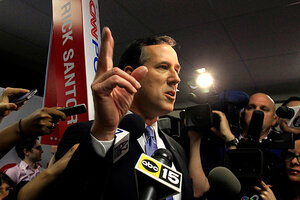 Ross D. Franklin/AP
Rick Santorum's 16 years in the House and Senate are giving rivals plenty of scope for attack.
Heading into Wednesday night's debate, Mr. Santorum was vying with Mitt Romney for frontrunner status in the Republican presidential field, but wound up taking a bashing over his record in Congress.
From "pork" projects to tough compromise votes on must-pass bills, the former senator from Pennsylvania was pressed to defend decisions revisited and rescored in the glare of a presidential campaign being fought in a new era of hyperpartisanship.
Earmarks – in Santorum's early years, widely viewed as a mark of a lawmaker's clout and commitment to voters – are now banned. President Bush's No Child Left Behind law, hailed as a triumph of bipartisanship and presidential leadership, is now under fire by both parties.
A firebrand who never cooled off, Santorum rubbed many former colleagues the wrong way – few are lining up to support him – and today is frequently portrayed as an uncompromising culture warrior. But in Congress, Santorum also established a legislative record that bridged party lines on issues ranging from welfare reform and protecting unions to support for children with disabilities, notably more federal funding for autism research.
Santorum swept into the House in 1991 with an insurgent GOP class set on challenging nearly 40 years of Democratic control.
---