Mitt Romney's new economic plan: Did it just fizzle?
The economic plan unveiled by Mitt Romney Friday offered details on tax reform and Social Security, but several gaffes and a lack of energy could overshadow its content.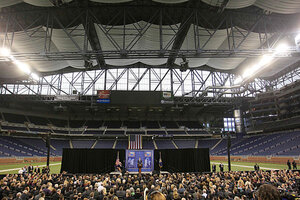 Carlos Osorio/AP
An important speech by Mitt Romney in Detroit, with just days before Michigan voters go to the polls in a primary, probably didn't go as well as the Republican presidential candidate had hoped.
It was billed as a major speech, but the Associated Press described it as offering "few new policy ideas."
Video footage showed Mr. Romney talking to a crowd of some 1,200, gathered in the middle of a football stadium with tens of thousands of empty seats in the background. (Actually, the bad visuals arose because tickets for the speech sold out at the Detroit Economic Club's initial location, leading to a quick change of venue.)
And even as he tried to connect with the car culture of Motor City, the Michigan-raised Romney made a comment that could cement a rich-plutocrat image with many voters: He said his wife drives "a couple of Cadillacs."
So will this be known as the flop at Ford Field?
If he ends up losing the state's primary vote on Tuesday, perhaps. But as a statement of policy and purpose, the speech offered several items of note. So here's a look at the more substantive points of what Romney said.
ECONOMIC PLAN. First off, although much of what Romney said wasn't new, the speech revealed that the candidate does have a real economic plan.
That doesn't mean voters all agree with it, and independent economists are still wondering if the numbers all add up. But Romney has put forward a number of concrete ideas connected to a larger vision.
"I want to restore America's promise," he said, citing the nation's tradition as a magnet for optimists, risk-takers, and innovators. He argued that a growing presence of government in the economy means that "we are inches away from no longer being a free economy."
---