Does it help Rick Santorum to slam JFK on religion's role in politics?
Rick Santorum on Sunday attacked John F. Kennedy's 1960 speech affirming separation of church and state. With two-thirds of Americans saying religion is 'losing influence' in US life, he may be playing to those who worry about that.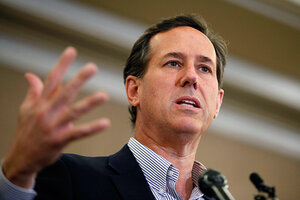 Al Goldis/Reuters
Rick Santorum's latest foe, rhetorically at least, is a politician from half a century ago: John Kennedy.
The Republican candidate for president has loudly condemned a 1960 speech in which then-Senator Kennedy outlined a limited role for religion in politics.
The cross-generational dust-up is serving as a reminder of how American attitudes about the interplay of religion and politics have evolved since President Kennedy's time.
Back then, the Democratic presidential contender's speech served to soften widespread public worries that a Roman Catholic president might be beholden to the views of a church hierarchy. Today, former Senator Santorum sees points to be scored by defending the role of faith in public life (he is also Catholic), not downplaying it.
Here's Santorum in February 2012:
"I don't believe in an America where the separation of church and state is absolute. The idea that the church can have no influence or no involvement in the operation of the state is absolutely antithetical to the objectives and vision of our country," said Santorum in a Sunday interview on ABC News. "This is the First Amendment. The First Amendment says the free exercise of religion."
Here's Kennedy in September 1960:
"I believe in an America where the separation of church and state is absolute, where no Catholic prelate would tell the president (should he be Catholic) how to act, and no Protestant minister would tell his parishioners for whom to vote," Kennedy said in a speech at the Greater Houston Ministerial Association.
Kennedy's comments helped his candidacy. Today, Santorum's very different comments may also work in his favor – in the Republican primary at least.
---