The high stakes primary: why Michigan matters
Given that Michigan awards delegates proportionately, the winner of the primary could earn fewer delegates than the loser. Even so, the contest is a must-win for Mitt Romney and Rick Santorum.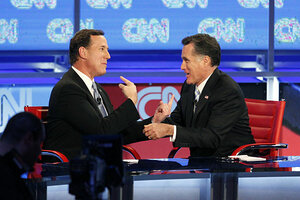 Nick Oza/AP Photo/The Arizona Republic
If the polls are any indication, tonight's Michigan primary could be very close. While Mitt Romney and Rick Santorum have been duking it out there for weeks, neither one is likely to win by a wide margin.
And given how Michigan apportions delegates, they may both emerge with about the same numbers (the winner could even receive fewer delegates than the loser).
So why does the Michigan primary matter?
The reality is that both Mr. Romney and Mr. Santorum have a lot at stake – and a lot to lose – with Tuesday's contest.
Fair or not, the media is likely to place disproportionate weight on the outcome – especially since Arizona and Michigan are the first contests held since Santorum won Minnesota, Colorado, and Missouri three weeks ago – and the loser in Michigan is likely to face increased scrutiny on a host of issues.
If Romney wins both states (Arizona will almost certainly vote for him), then it's going to be tougher for Santorum to claim he's the serious contender for the nomination that he claims to be.
---