Can Mitt Romney carry his 'Big Mo' through Super Tuesday?
Mitt Romney is leading the GOP presidential pack in election wins, delegates, and nominations. But Super Tuesday and its ten contests – especially Ohio – could be the key to whether he keeps his momentum.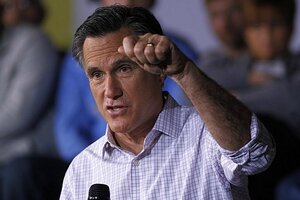 Gerald Herbert/AP
Rolling up to the biggest set of presidential nominating contests so far – Super Tuesday with 10 states voting – Mitt Romney clearly has "Big Mo" on his side, that ephemeral momentum yearned for by anyone who's ever run for office and seen their fortunes ebb and flow.
He's won five events in a row – Michigan, Arizona, Maine, Wyoming, and now Washington State. He's ahead in the delegate count. And he's picked up a long string of endorsements, most recently Rep. Eric Cantor of Virginia, a leading congressional conservative and number two Republican behind House Speaker John Boehner.
"What I have seen is a very hard-fought primary. And we have seen now that the central issue about the campaign now is the economy," Cantor said on NBC's "Meet the Press" Sunday. "I just think there's one candidate in the case who can do that, and it's Mitt Romney."
To be sure, any assertion that Romney's nomination is inevitable may be perched on wobbly legs.
---