Super Tuesday fallout: Will the South ever vote for Mitt Romney?
On paper, Mitt Romney can clinch the nomination without winning many die-hard red states. But a surge by Rick Santorum in the South could spell big trouble for the frontrunner.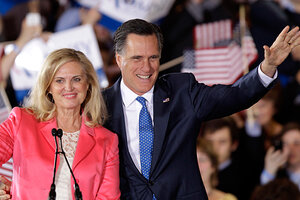 Stephan Savoia/AP
Mitt Romney's failure to win a bona fide red, evangelical state on Super Tuesday highlights his liabilities among white evangelical conservatives, a population that may hold the key to his nomination.
Yes, Mr. Romney, the former Massachusetts governor, eked out an important symbolic victory in the Ohio bellwether and won in Alaska, Massachusetts, and Vermont. And he did win Virginia, a Southern state, but the victory was a hollow one, since neither Rick Santorum nor Newt Gingrich were on the ballot.
Indeed, wherever evangelical voters are in a majority – in Tennessee, three of four who went to the polls Tuesday counted themselves as such, compared to half in Ohio – Romney so far has lost. And it was no different on Tuesday.
Super Tuesday turned into a geographical grab bag that highlighted the candidates' challenges: Mr. Santorum won in North Dakota, Oklahoma, and Tennessee, showing he can win in the South, the West and the Midwest, but not New England; Mr. Gingrich won convincingly in his home state, Georgia, but was unimpressive everywhere else; Romney, meanwhile, picked up states in New England, the West, and the Midwest, but none in the South. (While Romney did win Florida on Jan. 31, it's not widely considered a Deep South state, and he got trounced in the Deep South enclaves of the Panhandle.)
---